Crude palm oil making process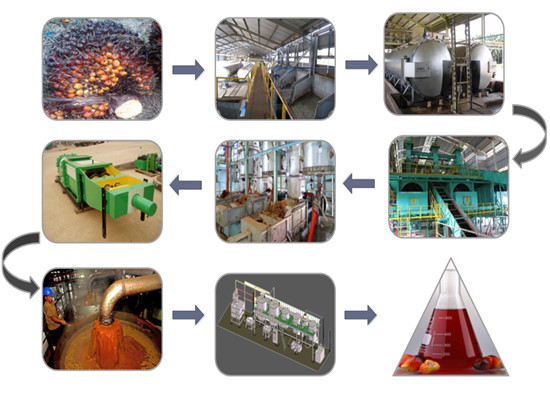 Factory direct sale contact number
Crude palm oil making process mainly used to prodece palm oil.
Crude palm oil making process

which directly related to the palm fruit oil process (from fresh fruit to final products) are divided into eight station,they are reception

station

,sterilization

station

,threshing

station

,crashing
station

,
pressing station,

oil clarification station,
kernel recovery station,and

kernel & nut separattion station.
Crude palm oil making process introduction: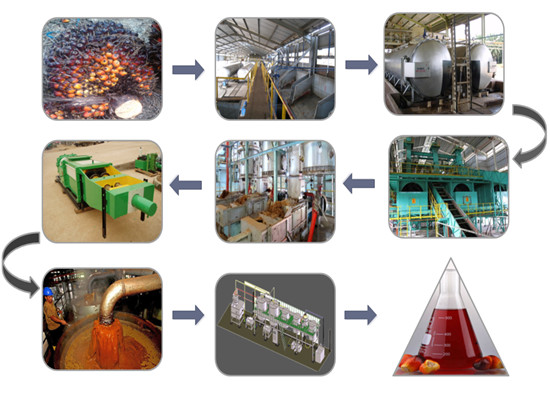 Palm oil making process
1.Palm bunch reception station:
Palm bunch reception station is the primary processing of crude palm oil making process. It makes preparation for raw material processing and treatment.Palm bunch reception process is finished at loading ramp. This loading ramp makes palm fruit unloading, cleaning, storage platforms, adopting all hydraulic segmented discharge.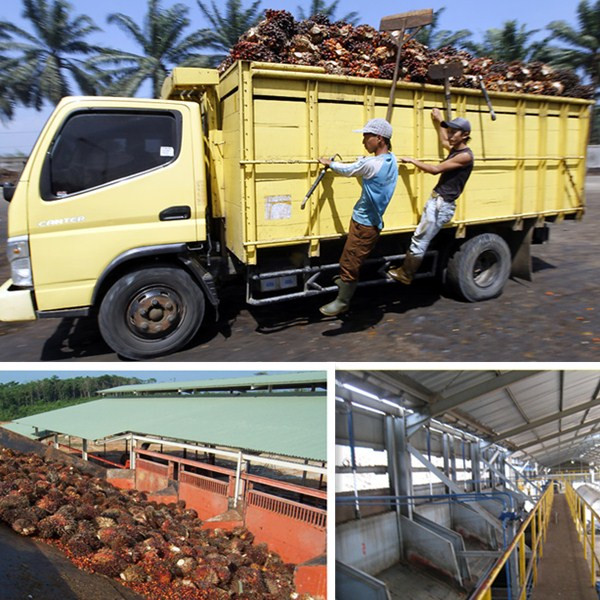 Palm bunch reception station
2.Palm bunch sterilization station
Palm bunch sterilization station utilizes high temperature (145℃, 90-120min) to cook palm bunches. Palm fruit can easily separate from palm bunches and become soft. Owing to increasing humidity of palm fruit, crude palm oil can be easily extracted from fruit. Palm kernel core can much easy separate from kernel shell, preventing enzymatic decomposition, and avoid elevated levels of free fatty acids.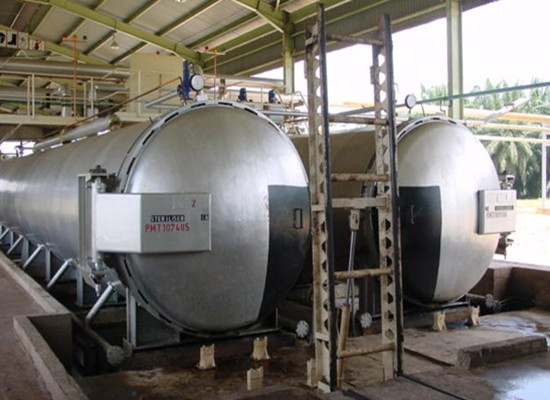 Palm bunch sterilizing machine
3.Palm bunch threshing station
Palm bunch threshing station uses strong vibration to make separation of palm fruit from palm bunches. Raw materials after sterilization are sent to bucket elevator through damp car, and elevated into palm bunch threshing station. Palm fruit separates from bunches, sent to next section elevator through screw conveyor. Empty bunches through conveyor and charger, are transported to certain place for further treatment by car.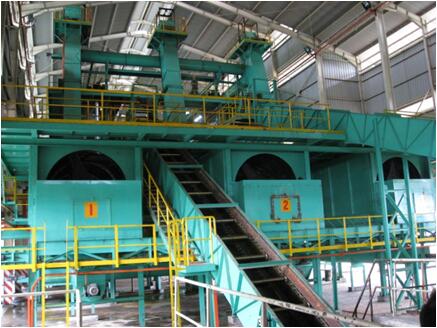 Palm fruit threshing machine
4.Palm fruit crashing station
The purpose of palm fruit crashing station is used to separate the pulp and nut and crush the palm pilp.At the same time ,the steam is used to cook the palm fruit and broke the cell of pulp.The best condition of sooking is 90~100℃ for 20 mins.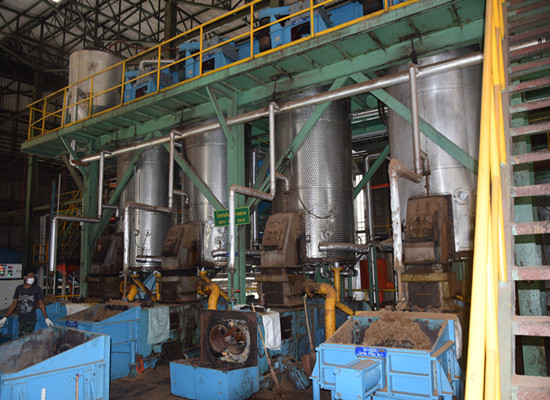 Palm fruit crashing machine
5.Palm oil pressing station
Because of sterilizing, threshing and crashing made the pulp soft and damage pulp cell structure, the palm pulp becomes soft and cell is broken. Then it is sent to continuous screw press. After pressing, oil palm fruit is divided into two parts: the mixture of oil, water and solid impurities, and the press cake (fiber and nut).The pulp stone separation obtained CPO and stone, press machine adopts the double screw helix continuous discharge and hydraulic, greatly improving production efficiency.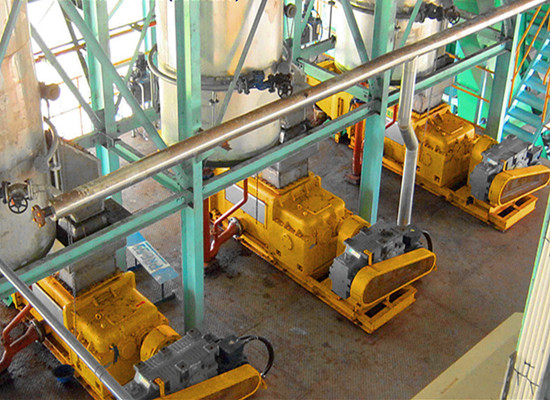 Palm oil press machine
6.Palm oil clarification station
Palm oil clarification station can extract crude palm oil from sludge. The obtained crude palm oil purity can reach up 90%. The extraction oil contains 45%-55% moisture, sludge and other impurities.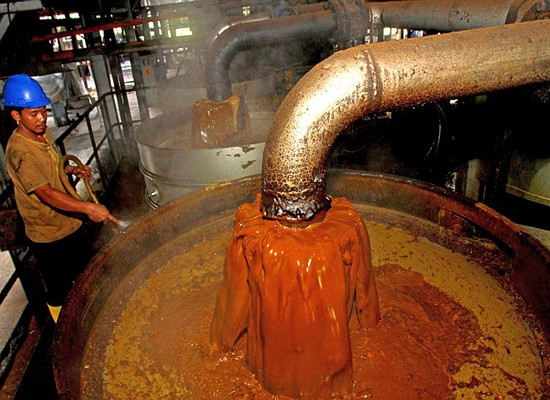 Palm oil clarification machine
7.Palm kernel recovery station
Palm kernel recovery station assures high efficiency recovery process of palm kernel after palm oil pressing processing line.

Palm kernel recovery station

prepares for further step palm kernel oil pressing process after splitter and crushing.
8.Palm kernel & nut separattion station
| | | |
| --- | --- | --- |
| | | Palm kernel cracker machine |
Palm kernel processing machine
Firstly, the wet fiber and wet palm nut enter the cake breaker conveyor to be cracked, and mostly of the fiber should be separated by pneumatic fiber depericarper system. The nut, little fiber and big impurity will be further separated by the polishing drum. The separated nut should be sent to nut hopper through the pneumatic nut transport system, and then adopt the ripple mill to crack the nut, after cracking , most of the shell and kernel will be separated by cracked mixture separating system, and the rest of mixture of palm kernel & shell enter to the special clay bath separating system to separate them, after this processing , we could get pure kernel(The shell content in kernel <6%),which should be conveyed to the kernel silo to dry. After dried moisture as 7%, the kernel will be conveyed to kernel storage bin for storage; Usually the dry kernel's capacity ratio is 4% . So it should be collected until enough quantity, and then be sent to the palm kernel oil mill; For the separated shell, it should be conveyed to shell temporary bin as the spare boiler fuel.

This is just a brief introduction of palm oil making proces.If you are interested in our palm oil making equipment, please feel free to contact us!!!
Leave A Message
If you want to know more information about Crude palm oil making process. pls kindly leave your phone number, We will back to you ASAP once we got your message.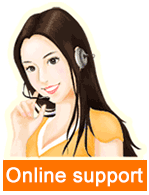 Leave a message

Tel/Whatsapp:008613526627860