Palm oil processing line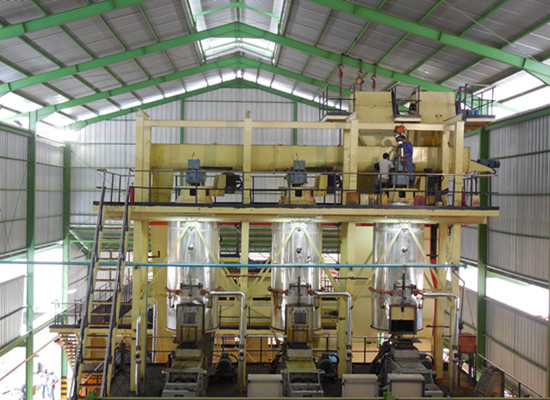 Factory direct sale contact number


Palm oil processing line
Palm oil processing line is an important production line of extracting palm oil,the palm oil processing line mainly includes: palm oil press production line and palm oil refinery line.The palm oil processing line can help you get standard edible oil or provide qualified material for deep processing products.The production capacity of the palm oil processing line can be adjusted according to your requirements.

Pressing workshop of palm oil processing line: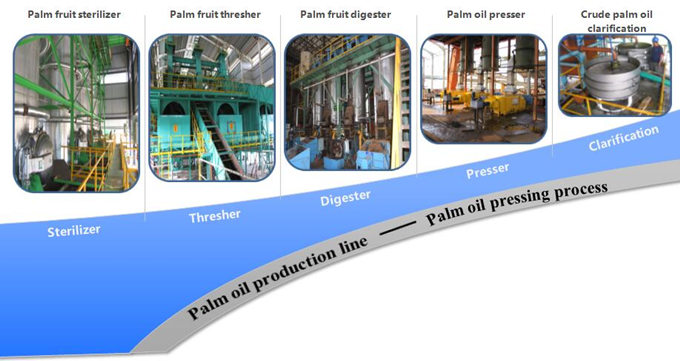 Large capacity palm oil processing plant
1.Palm fruit bunches harvest:
Oil palms are able to produce fruit for harvest within 4 to 6 years of planting, if fertilized well. Life expectancy is 28 to 30 years on average, at which point they are usually 40 feet / 12 metres high and it becomes too hard to harvest the heavy fruit bundles using extension pole.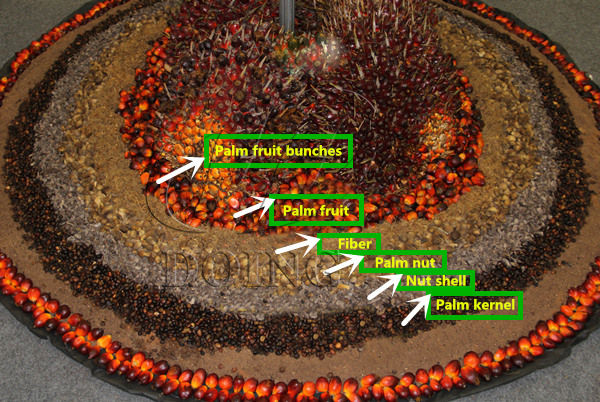 Ripe palm fruit bunches
How many ton CPO & CPKO you get from FFB?
The trees start being productive at around 3 years and then they keep producing for around 25 years.
136 trees/ha=20-23tonsFFB/ha/year
CPO=4-5T/Hectare/year
CPKO = 1
T/Hectare

/year
15-20bunches/tree/year
FFB = 1000-3000 individual palm fruit
FFB = 10-25kg
FFB = 20%CPO;2%CPKO
Weight of each palm fruit= 8-13g
2.Raw materials reception:the first step of the palm oil processing line is collecting the ripe fresh cluster and convey by trucks, then pour the fluster into the discharge door after weighed .Open the gate of the discharge door, then the palm fruits will fall into the fruit basket car or conveyor.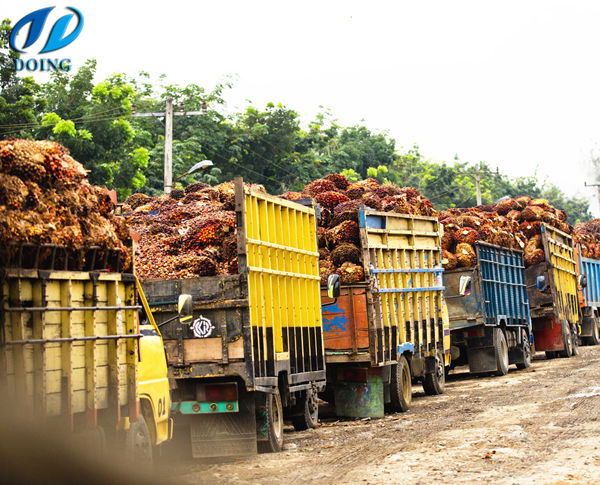 Palm fruit bunches reception station
3.Sterilizing: fresh palm fruit bunch are airtight sterilized in sterilizer of palm oil processing line, injecting direct steam to heat 60mins. The purpose is to prevent enzymes broken down, avoiding FFA content in oil further increase.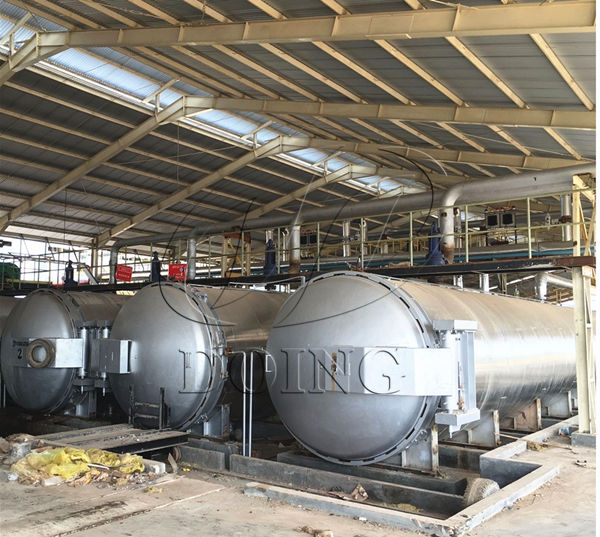 Horizontal type palm fruit sterilizing machine
4.Threshing:the purpose of threshing is to separate the palm fruit from the FFB. The drum type thresher of palm oil processing line is the usual machine to separate the fruit.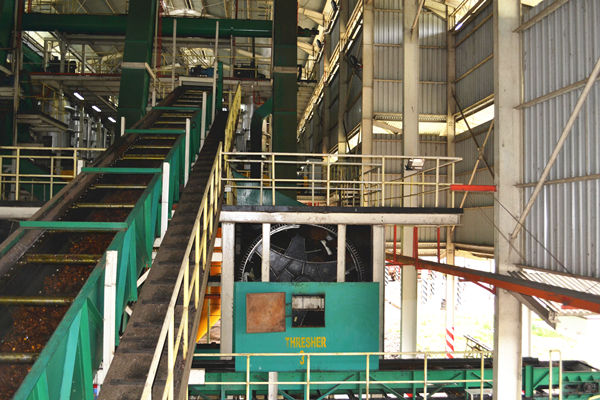 Large scale palm fruit threshing machine
5.Digesting&pressing:the purpose of digester is to separate the pulp and nut and crush the palm pulp.Then it is sent to continuous screw palm oil press machine. After pressing of palm oil processing line, oil palm fruit is divided into two parts: the mixture of oil, water and solid impurities, and the press cake (fiber and nut).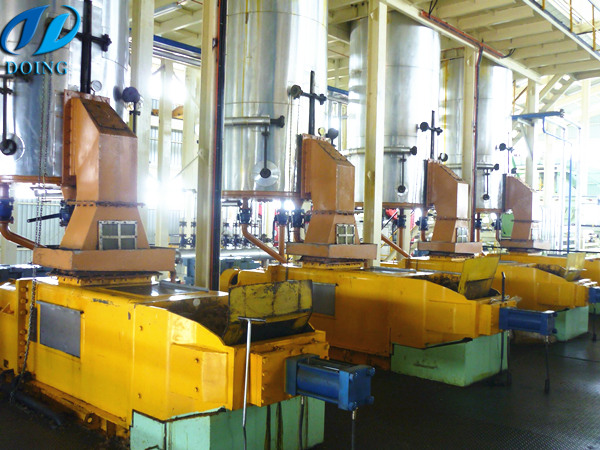 Palm fruit digesting & pressing machine
6.Crude oil clarification:crude oil first diluted with water washing, through settlement and filtration, the fiber material removed from the oil, and then carry out continuous settlement, the whole divided into two parts: oil and sediment. Oil by centrifugal separation and through vacuum drying pumped into the storage tank for storing; oil sediment by filtration and dirt oil separation.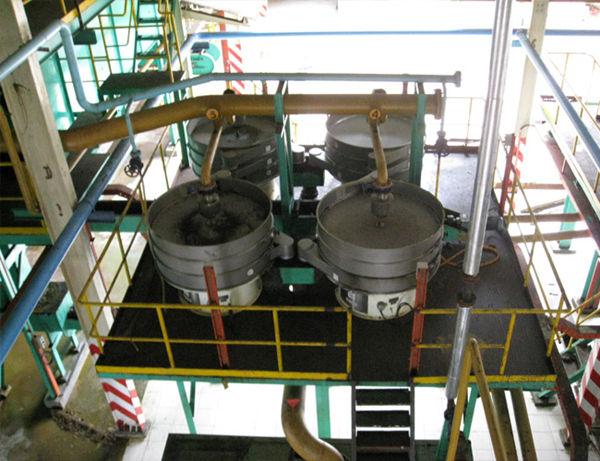 Crude palm oil clarification machine
7.Kernel recovery: by crusher of palm oil processing line, kernel was released. The broken mixture enters into broken mixture separation system.After separation, shell is sent to the warehouse for temporary storage. Dried kernel is sent to kernel storage warehouse for storing. [Recommend reading : Palm nuts cracking and separating machine ]

Palm kernel recovery station
Refinery workshop of palm oil processing line:
Refining is an essential process for a complete palm oil processing line because there are still some impurities such as phospholipids, FFA, pigment, odor,etc. in the crude palm oil. As a prominent oil processing machines manufacturer who is devoted to processing pure edible oil for worldwide customers, we can product and offer professional technical palm oil refining equipment plant for your edible oil refining. We can provide turnkey oil refining solution with capacities from 1-1000T/D.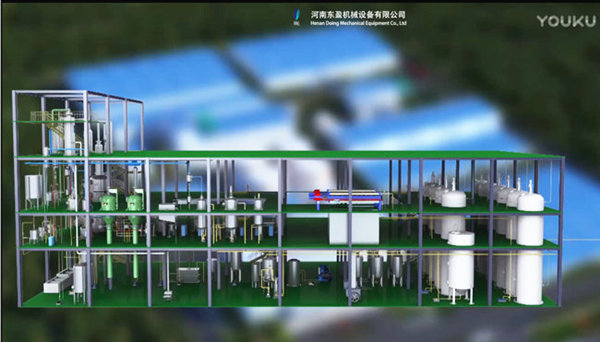 Palm oil refining workshop 3D diagram
Process flow chart of palm oil refining equipment plant:

Palm oil refining process flow chart
1-1000TPD Palm Oil Refining Equipment Plant Features:
1. Wide application: various kinds of oil can be refined by our palm oil refining equipment plant such as peanut oil, sunflower seeds oil, soybean oil, coconut oil, palm kernel oil, rapeseed oil, etc.
2. The capacity of palm oil refining equipment plant can be customized. The complete palm oil refining machine can work independently or together with whole oil production line.
Through the work flow of palm oil processing line,we will get various grades refined palm oil,our company can help you design and manufacture different palm oil processing line according to your requirements and quantity of raw materials.

We manufacture and export an wide range of palm oil processing equipment. All our machines are made by superior quality materials to ensure each one meets the quality standard. Contact us to get detailed information and cost of setting up a palm oil production mill. We are always ready to serve you.
Leave A Message
If you want to know more information about Palm oil processing line. pls kindly leave your phone number, We will back to you ASAP once we got your message.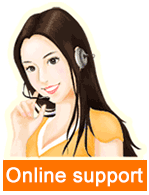 Leave a message

Tel/Whatsapp:008613526627860