Crude palm oil production process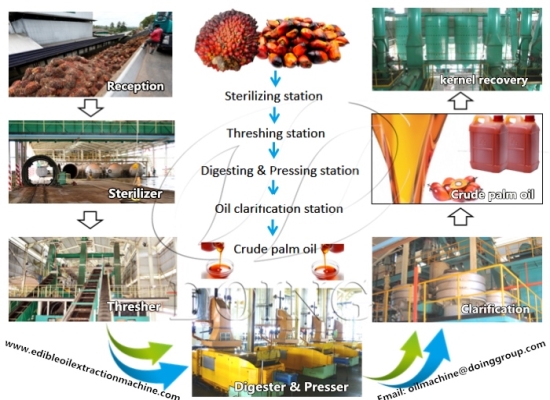 Factory direct sale contact number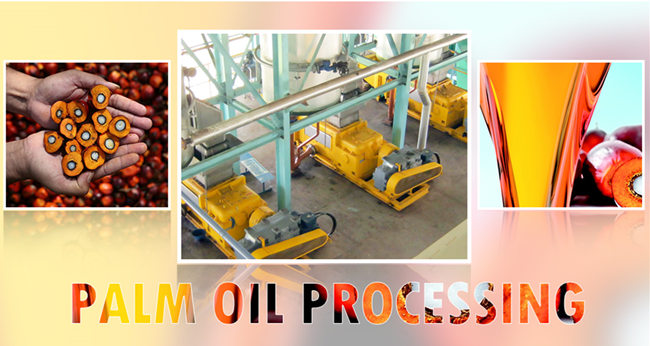 Crude palm oil production process
Our company is specialized in crude palm oil production process with 1-2-3-5-10-15-30-45-60-120tph.We have small, medium and large crude palm oil production process machinery. And we can customized crude palm oil production process for different customers.

Crude Palm Oil Production Process Introduction: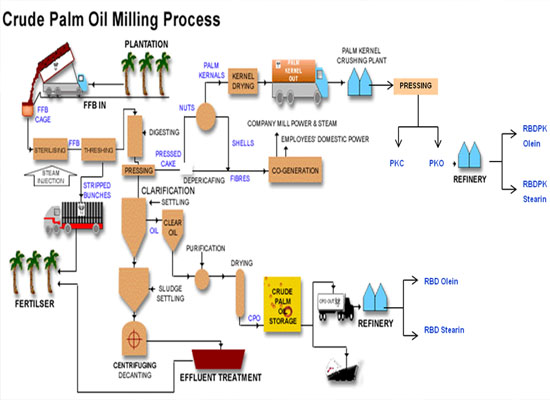 Crude palm oil process flow chart
1.Weighing.
Palm fruit receiving station is the begin of crude palm oil production process.Collecting the ripe fresh cluster from the orchard and convey by trucks, then pour the fluster into the discharge door after weighed by ground weigher . The discharge door has discharging channels, the upper and lower switches of the iron gate are controlled by pneumatic, Pneumatic control system consists of air compressor and pneumatic control devices. Start the control valve to open the gate of the discharge door, then the palm fruits will fall into the fruit basket car or conveyor.

2.Loading ramp.FFB after a ramp sieved to remove impurities into the transport machinery delivery to sterilization tank.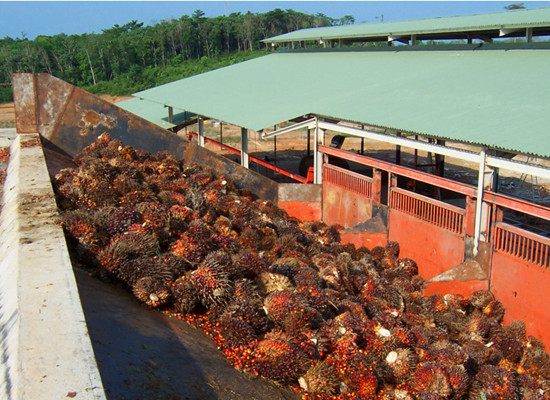 Palm fruit bunches reception
2.Sterilization. Sterilization in crude palm oil production process is mainly for avoiding the increase of free acid (FFA), improving the quality of oil.The use of high temperatures to cook soft fruit bunches and sterilization (145 ℃ ,90-120 minutes), easy to separate fruit bunches fruit, soft fruit, increasing the humidity of the fruit. We have

horizontal type , vertical sterilizing tank and inclined sterilizing tank.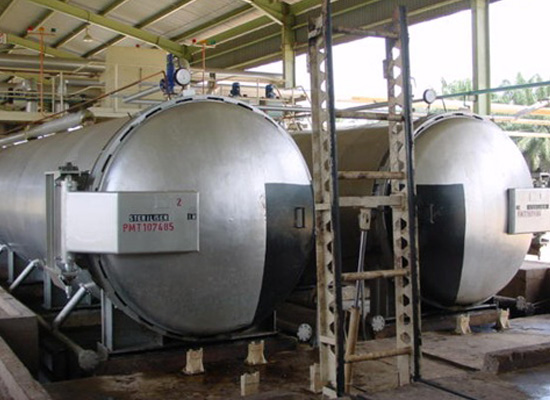 Horizontal type sterilizing tank
3.Threshing.
The purpose of threshing in crude palm oil production process is to separate the palm fruit from the FFB. The drum type thresher is the usual machine to separate the fruit. The separated oil palm fruit is sent into the pressing section. Empty fruit bunch be ejected to the yard from the other side of the revolving drum, or shipped out from the plant as palm orchards slipcover to recycling use, or burning in the locale as fertilizer for agricultural land.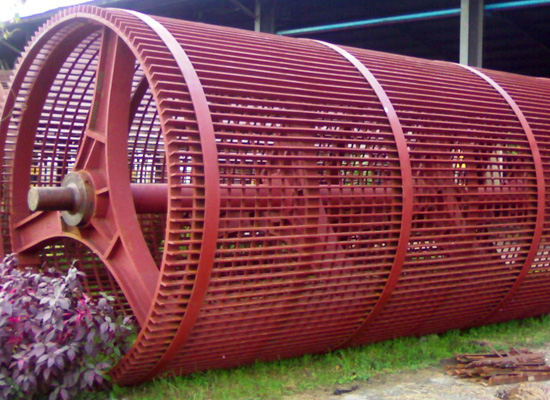 Palm fruit threshing machine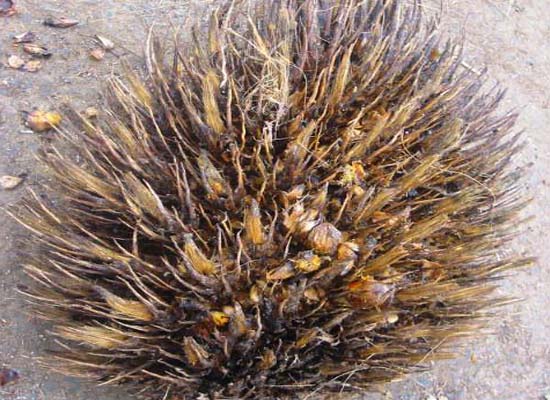 Empty palm fruit bunches
4.Crushing.Fruit is broken through mash tank mixing and extrusion. This process in crude palm oil production process is also called digesting.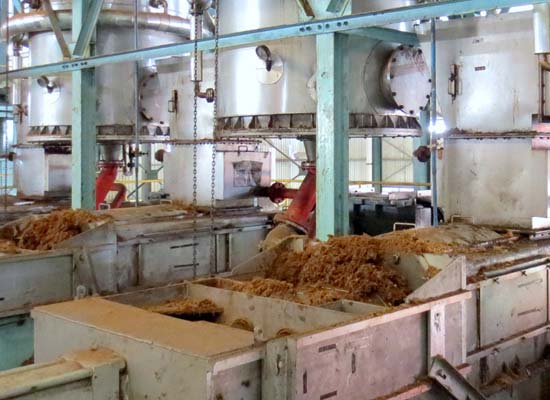 Palm fruit digesting machine
5.Pressing.
fter sterilizing, the broken palm fruit flow into the palm oil press machine to pressing. Oil and water mixture outflow from pressing chamber shell hole, in the same time, the fiber cake and core was discharged from bonehead clearance and then drop in the packing anger of broken cake.
Palm oil pressing machine
6.Separate the nut and fiber.
Mostly of the fiber should be separated by pneumatic fiber depericarper System. The nut, little fiber and big impurity will be further separated by the polishing drum. The separated nut should be sent to nut hopper through the pneumatic nut transport system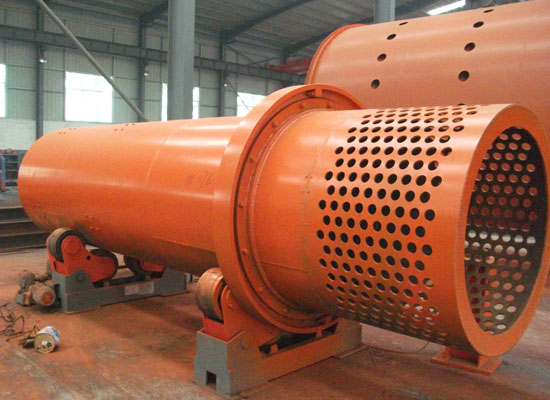 Polishing drum
7.Shell and nut.
Adopt the ripple mill to crack the nut, after cracking , most of the shell and kernel will be separated by cracked mixture separating system, and the rest of mixture of kernel & shell enter to the special clay bath separating system to separate them, after this processing , we could get pure kernel(The shell content in kernel <6%),which should be conveyed to the kernel silo to dry.After dried moisture as 7%, the kernel will be conveyed to kernel storage bin for storage; Usually the dry kernel's capacity ratio is 4% . So it should be collected until enough quantity, and then be sent to the palm kernel oil mill; For the separated shell, it should be conveyed to shell temporary bin as the spare boiler fuel.
8.Oil clarification.
Machine-pressed crude oil first diluted with water washing, through settlement and filtration, the fiber material removed from the oil, and then carry out continuous settlement, the whole divided into two parts in crude palm oil production process: oil and sediment. Oil by centrifugal separation and through vacuum drying pumped into the storage tank for storing; oil sediment by filtration and dirt oil separation, oil process second settlement, dirt oil mixture process clarification separation, Skim oil then carry out a second settlement, sewage pumps to sewage treatment pond for dealing with.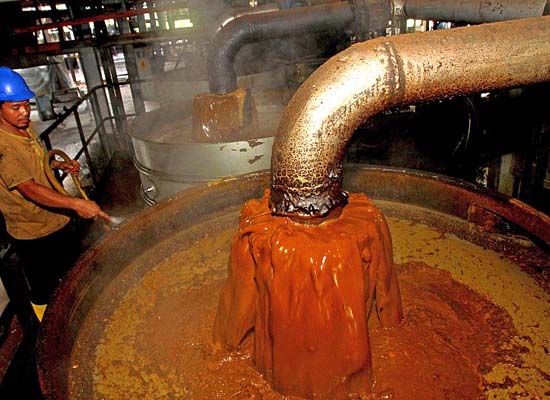 Oil clarification
9.oil transportation.According to the actual situation,make crude palm oil pipeline.
10.Water Treatment.Generally introduced from a nearby river,water throught settling, filtration, dosing and other processes to ensure that the water quality, but also to ensure oil quality.Which is good for crude palm oil production process.
11.Power system.Power is use of steam power generation turbine generator and also equipped with diesel generators.
Crude palm oil standard:

FFA :≦ 5 %
Moisture :≦0.1 %
Dirt:≦0.02 %

Please have free to contact me if you need our crude palm oil production process, palm oil processing machine. I can try my best to help you.
Leave A Message
If you want to know more information about Crude palm oil production process. pls kindly leave your phone number, We will back to you ASAP once we got your message.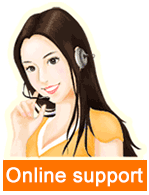 Leave a message

Tel/Whatsapp:008613526627860