How to get palm oil from fresh palm fruit punch?
Palm oil processing line is very different from other oil seeds. It mainly includes 9 sections: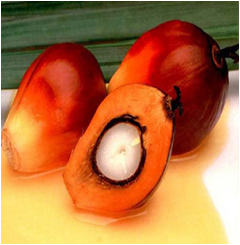 Palm seeds
1. palm oil Raw materials storage section:Fresh palm fruit bunch must be first measurement recorded by the pound into the plant, then unloaded to loaded fruit slopes and stored.

2. Sterilizing section: fresh palm fruit bunch are airtight sterilized in sterilizer. The purpose is to prevent enzymes broken down, avoiding FFA content in oil further increase; easy threshing machinery; pretreatment peel, prepared for the follow-up processing; pre-conditioning stone, reducing the damage kernel.

3. Threshing section: The purpose of threshing is to separate oil palm fruit from the fruit bunch through strong vibration.

4. Palm oil pressing section: Before pressed, oil palm fruit first be carried out cooking, sterilized fruit must be re-heated to make the pulp soft and damage pulp cell structure. Then enter into continuous screw press.

5. Palm oil clarification section: Machine-pressed crude oil first diluted with water washing, the fiber material removed from the oil through settlement and filtration, and then carry out continuous settlement.

6. Finished crude palm oil is stored in storage tanks.

7. Fiber separation section: Press cake broken by breaking screw conveyor and then transported into the fiber separation air net and fiber polishing roller for fiber separating.

8.Kernel recovery section:After separation, shell is sent to the warehouse for temporary storage, as boiler room fuel when necessary; Dried kernel is sent to kernel storage warehouse for storing.

9.Sewage treatment section: Pool sewage treatment system is the most used and effective treatment.
---
---
RELATED INFORMATION: