Palm oil refinery with capacity of 4 TPD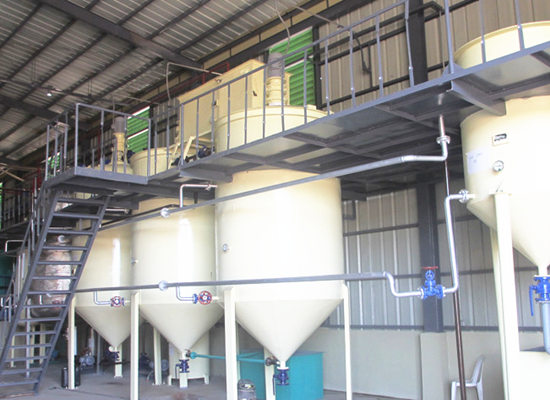 Factory direct sale contact number

Palm oil refinery with different models
Palm oil refinery is an essential process for a complete palm oil mill plant because there are still some impurities such as phospholipids, FFA, pigment, odor,etc. in the crude palm oil. Henan Doing Mechanical Equipment Co.,Ltd, as a professional palm oil refinery manufacturer who is devoted to processing pure edible oil for worldwide customers. We can provide professional technical support and first class palm oil refinery and other palm oil machine for customers.

Process flow chart of palm oil refinery: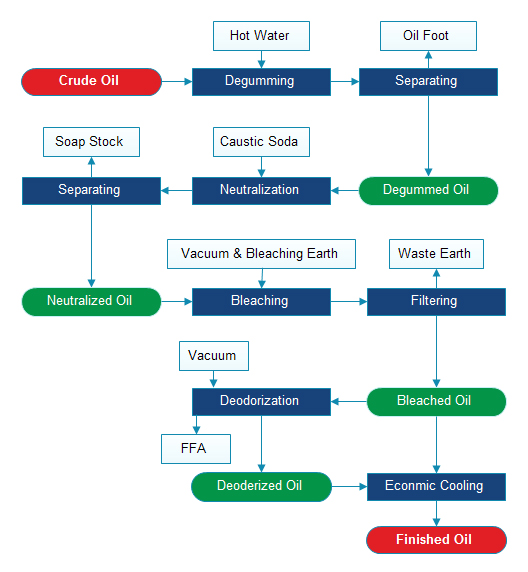 Palm oil refinery process
Main Steps of palm oil refinery:
1.Degumming.
In this step gums in crude oil are removed by hydration with the help of phosphoric acid. Degumming is the first step for the whole palm oil refinery process.
2. Neutralization.
In this step free fatty acids are neutralized by using sodium hydroxide and convert them into soap. Additional impurities are also removed by adsorption on soap.Neutralization is also called deacidification, it is the important part for palm oil refinery.
3. Bleaching.
During bleaching, unwanted pigments are adsorbed physically and oil will become much clearer. Bleaching is also decolorization in palm oil refinery.
4. Deodorization.
Deodorization is used to remove unacceptable odors by steam distillation, the odoriferous compound are stripped off with the help of live injected steam into heated oil under high vacuum pressure. Deodorization is mainly for making oil color lighter during palm oil refinery process. Which can make oil looks good.
5. Fractionation.
Palm oil wll be two status under a certain tempreature, solid and liquid. We call the solid palm stearin, and liquid is palm olein.
Fractionation is mainly for separating palm olein and palm stearin. In the supermarket, all the oil is palm olein. Palm stearin can be as deep-processing products.

We are experienced in building palm oil refinery plant, palm kernel oil refinery plant and palm oil extraction machine.View our website to find detailed information about palm oil processing plant,palm kernel oil processing plant, other related oil mill machinery. Want to start your oil business and build a customized, palm oil refinery plant with low investment?Henan Doing Company should be your best choice!
Leave A Message
If you want to know more information about Palm oil refinery with capacity of 4 TPD. pls kindly leave your phone number, We will back to you ASAP once we got your message.