How to start palm oil processing business in the south east and south west of Nigeria?
Palm oil processing business in Nigeria is a highly profitable business that you need to give serious attention. The palm oil fruit is indigenous to Nigeria. Our soil naturally grows them and they are found in the south east and south west of the Nigeria. Everyday, thousands of tonnes of palm oil is processed for consumption and use. Still yet, barely enough is available locally. We have to import from Asian countries and other foreigners that do not grow half as much as we do.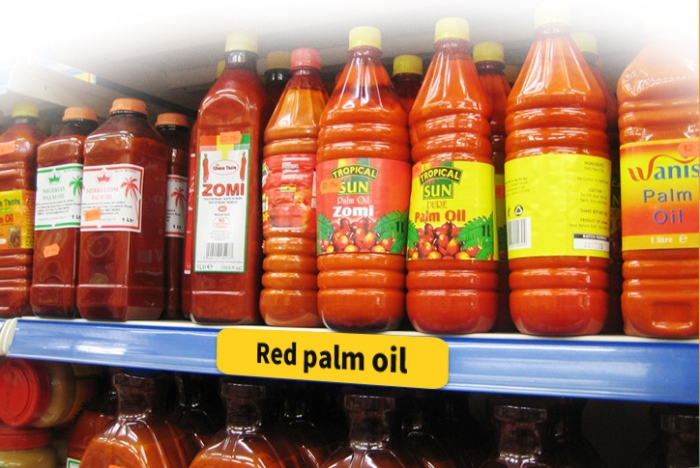 Red palm oil in the market of Nigeria
There is no debate about it, we are in need of more palm oil processing plants in the Nigeria both large scale and medium scale. In fact, the large scale palm oil processing plants are scarce in Nigeria. The medium scale plants do just fine and can process within 3-50 tonnes daily depending on size and sophistication of machinery. Here we will be talking about setting up the medium scale plants, what it takes and how.
Before that we need to learn about the steps involved in processing palm oil.
There are five major steps when processing the palm fruit bunch to its final product – the palm oil. These steps are listed below accordingly: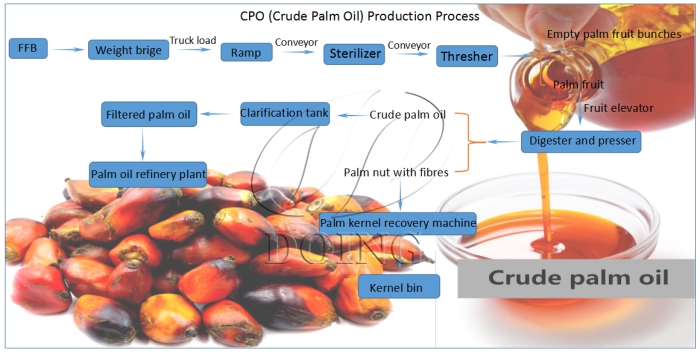 Processing steps from palm fruit to palm oil
Weighing and Offloading palm fruit bunches: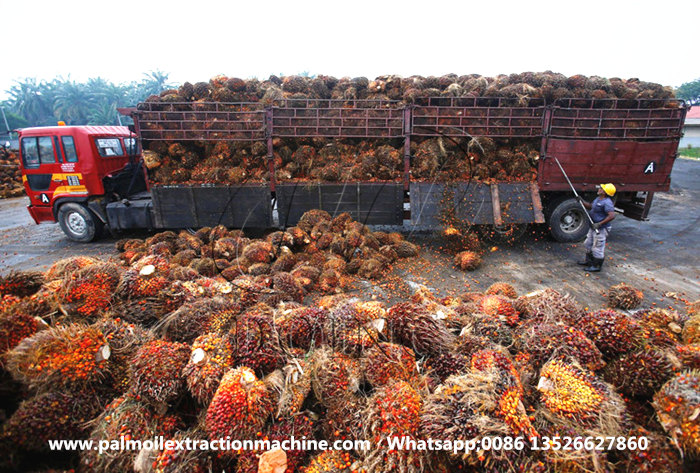 Offloading of palm fruit bunches
The act of weighing is very crucial to the palm oil processing plants, it is easy to calculate of the amount you are producing and calculate of the cost from sellers. Offloading from trucks has to be done carefully because it may affect the overall quality of the product. If it is handled carelessly the acid content may rise and offset the taste and increase the processing hurdles as the acid content has to be reduced to a certain minimum.
Sterilizing palm fruit bunches to prevent lipase from rising:
The palm fruit sterilization step is crucial to the final oil quality as well as the strippability of fruits. Sterilization inactivates the lipases in the fruits and prevents buildup of free fatty acids (FFA). In addition, steam sterilization of the FFBs facilitates fruits being stripped from the bunches. It also softens the fruit mesocarp for digestion and release of oil, and conditions nuts to minimize kernel breakage.
Separating palm fruit from palm fruit bunches:
This is the process where the fruit are separated from their bunch.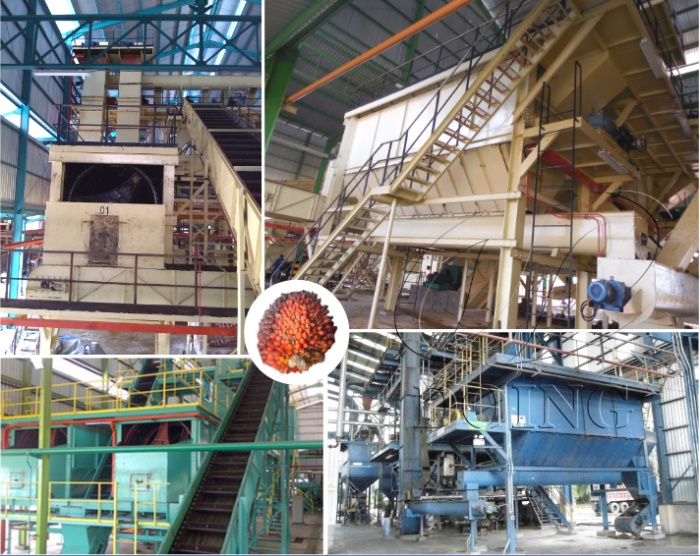 Palm fruit thresher machine
Digesting and pressing palm fruit to get crude palm oil:
The palm fruit digester machine can effectively crushing the sterilized palm fruit to palm fruit pulp. The palm fruit digester machine design includes a heated cylindrical container equipped with a central rotating rod carrying some stirring or beating arms. After palm fruit digester machine, the palm oil is easily extract out from screw palm oil press machine.
Next, this is the peak of the processes involved in the processing of the palm oil, where the oil is being extracted from the fruit bunch.
Filtering palm oil to get high quality palm oil:
The oil at this stage will contain unwanted remains of the fruit shells and water and some other impurities. So it is purified at this stage.
Storaging palm oil and selling it:
After the whole work is done, they are stored in gallons or barrels, to be transported later to the market or for buying customers to come and pick up, as palm oil is often sold on-demand.
After learning about the whole processed of processing palm oil, you might care about how to set up a medium scale palm oil processing plant. Let's continue reading.
SEE ALSO: What preparations need to be made to start palm kernel oil processing business?
Resolve venue supply issues
First, you will need a decent amount of open space for the plant. Then the next consideration is the distance the palm oil processing mill plant is from the nearest farm that can supply you with the palm fruits known as Fresh Fruit Bunches (FFB). The location should be able to accommodate a parking space for trucks for offloading the palm fruits.
Also, some of the processing might be done manually by hands, make sure there is enough room for many workers to roam about.
Solve water supply problems
You will need a constant water supply for the boiling/steaming of the palm fruit during processing. It has to be clean because hygiene is of utmost importance in palm oil processing. There is a high possibility of being located in a remote area where there is neither electricity nor treated water supply. So you might have to pay the water board to fix a pipe from the nearest town to your processing plant. Or a preferable alternative is to dig a borehole on site. That will save you a lot of money from paying water bills and it is always available whenever you need it.
Buy suitable palm oil processing equipment
A mill is setup for the processing of palm oil. The mill must have some necessary palm oil processing equipment in the palm oil processing operation such as the sterilizer, thresher, digester, palm oil press, crude palm oil filter machine, etc. Depending on how much of the processing plant you wish to mechanize, the machines you need may vary. If for example the threshing is left to manual laborers, you wouldn't need a thresher. But of course there would be a wide gap when it comes to efficiency between the workers and the machine. Machines will perform faster and reduce waste significantly.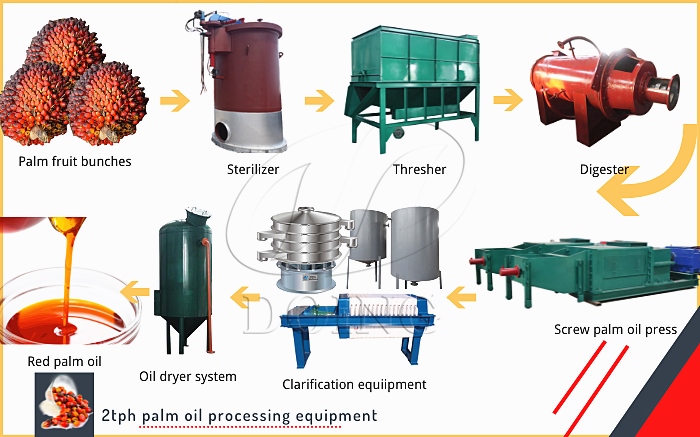 Small scale palm oil processing machine
The most common machines found in a palm oil processing mill are sterilizer, thresher, boiler, presser, and the filter. Each mill has a capacity rating, that is an amount of palm fruit it can process daily. Small ones usually process palm fruit bunches about 1 tonne to 10 tonnes every day and medium to large ones process over 100 tonnes daily.
The suppliers of the palm oil processing machinery provide tech support, they should be able to provide you with any information you need regarding the setting up of the mill and its maintenance.
Hire trained staff
The workers that will be operating the mill should be experienced in the job or at least they should have training on how to operate the specific set of palm oil processing machines available in your processing plant. But some workers don't require an extensive training, those responsible for offloading the fruit bunches and other manual labours.
You may also need among the staff professional engineers, chemical engineer for testing and evaluating of the oil product and mechanical engineer for the mill maintenance. Another option is to hire them temporarily whenever they are needed.
Calculate expected profit margin
A tonne of palm oil is sold for somewhere around $550 which is about 173,000 in Naira, and only 25% percent of the oil is extracted from a fruit bunch making if a good machine is used, so you need about 40 tonnes of fresh fruit bunches for 10 tonnes of palm oil which is the average capacity of the medium scale mill we mentioned above.
Next, we calculate our expected profit based on the scale that can produce 100 tons of palm oil a month. We said earlier 1 ton is sold for N173,000 so we will be having N17,300,000 for 100 tonnes. Now close to 40% of the expenditures is the cost of the palm fruit, which stands at about 6.9 million Naira, the rest of the expenditures are transportation, staff payment, diesel fuel and maintenance costs, they roughly add up to 3.5 million Naira, so you have;
17,300,000 – 6,900,00 = 10,400,000
Then 10,400,000 – 3,500,000 = N6,900,000, approximately 7 million Naira, this is your expected profit when embarking on this business.
The palm oil processing business in Nigeria is really a highly profitable business. If you want to invest in this business and do not know what preparations you need to make and what necessary equipment to buy, please contact us, we all can help you.
Leave A Message
If you want to know more information about How to start palm oil processing business in the south east and south west of Nigeria?. pls kindly leave your phone number, We will back to you ASAP once we got your message.