What are the machines used for palm oil processing?
Henan Glory Company can provide three types of palm oil processing lines and machines used for them, from simple type to large scale. Below is mainly about the machines used for complete palm oil processing, including sterilizing tanks, thresher, digesting tanks, screw oil presses, vibrating screen, oil clarification tank and plate and frame filter and so on.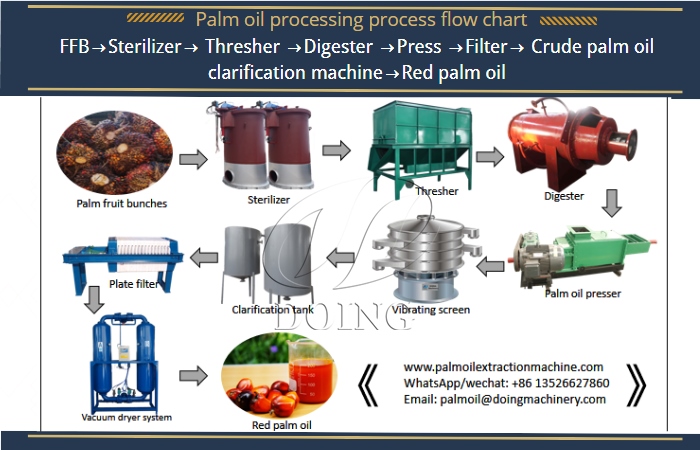 Palm oil processing machines
1. Fruit Reception: It is used for temporary storage and unloading fresh palm fruit bunches from palm plantation.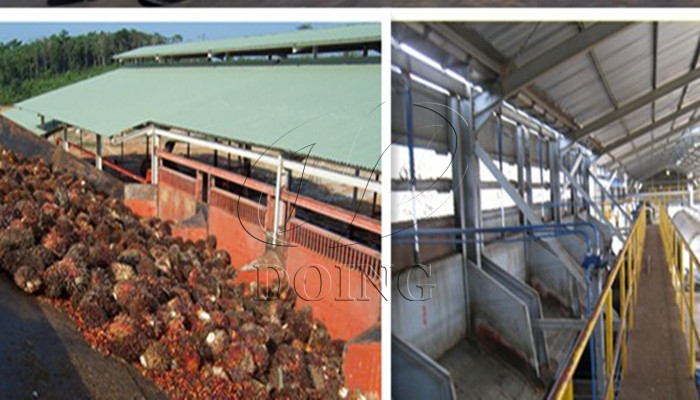 Fruit reception
2. Sterilizer: three types of sterilizers can be chosen in palm oil processing. All use high temperature of 145°C to soften and sterilize the fruit bunches. Boiled sterilization tank directly burns hot water to generate steam for heating and the sterilization time is 90-120 minutes. Cooking sterilizing tank is heated by steam, and the fermentation time is 60-90 minutes. Another is a vertical steam sterilization tank, which is heated by a peripheral heating coil and has a sterilization time of 60-90 minutes.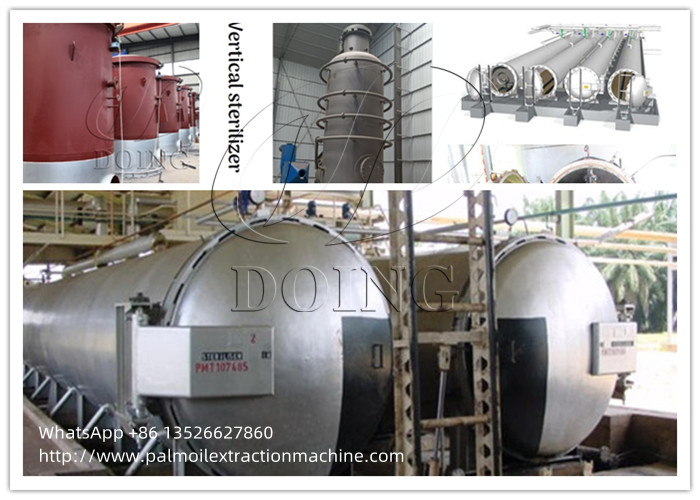 Three types of sterilizers
3.Palm Fruit Thresher: thresher is mainly for separating palm fruit from palm fruit bunches in the process of palm oil processing. Henan Doing Glory can provide three kinds of thresher. According to processing capacity per hour, threshers have simple type with capacity 500kg/h and drum type from capacity 1-2t/h to 15t/h. After threshing, palm fruit and empty palm fruit bunches will be separated effectively.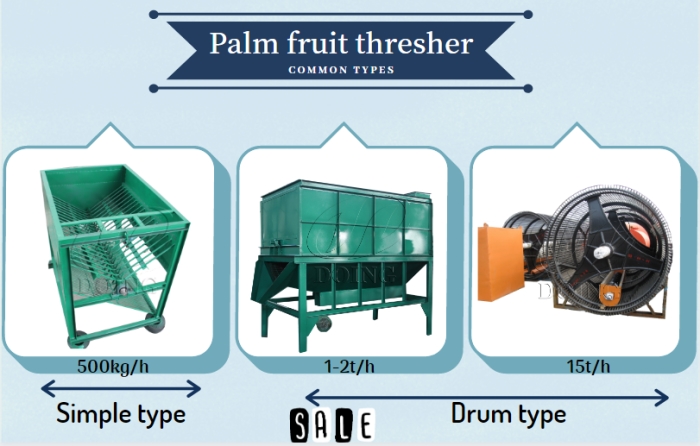 Three types of palm fruit thresher
4. Digester: digester is for crushing palm pulp and breaking the cell of pulp for better effect of pressing palm oil in palm oil processing. There are horizontal and vertical digesting tanks. The customers can choose one of both based on their factory design and area or other actual needs.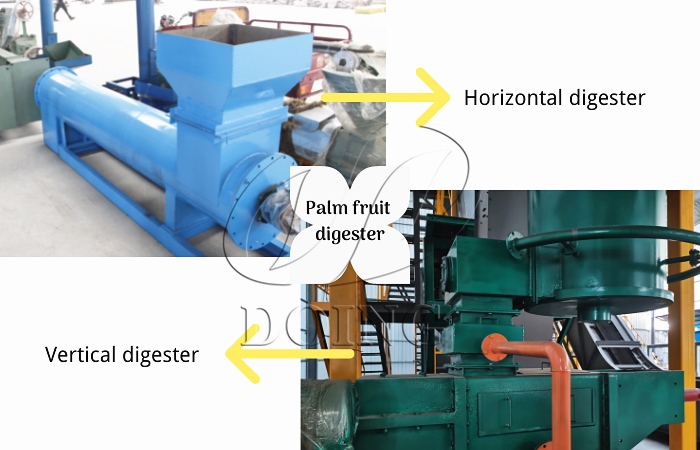 Horizontal and vertical digester
5. Presser: the major function of screw palm oil press machine is to extract palm oil from palm fruit. As for different palm oil processing capacity, there two kinds of screw palm oil press machine for people to choose, one is screw palm oil press machine, the other is double screw palm oil press machine.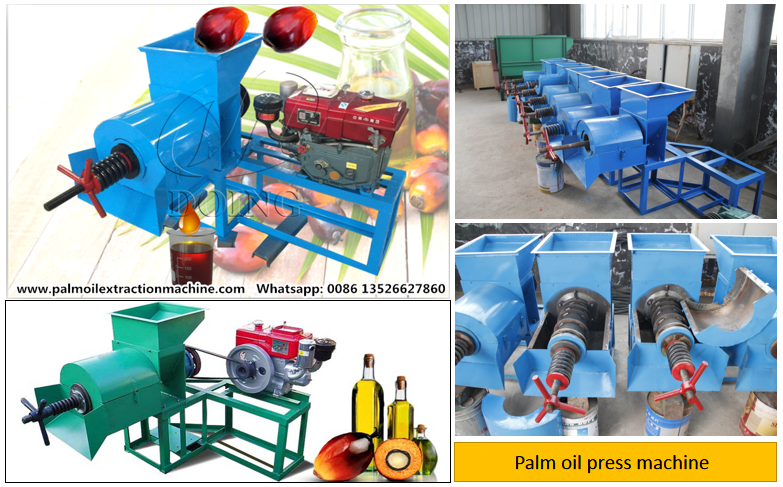 Screw palm oil press machine
6. Oil Clarification Station: for the filtration stage, a vibrating screen, an crude oil clarification tank and a plate filter are generally configured to filter different impurities in the crude oil and clean crude oil can be provided. Then use a vacuum drying system to evaporate excess water for easier storage. Finally, the clean crude oil is introduced into the crude oil tank for temporary storage.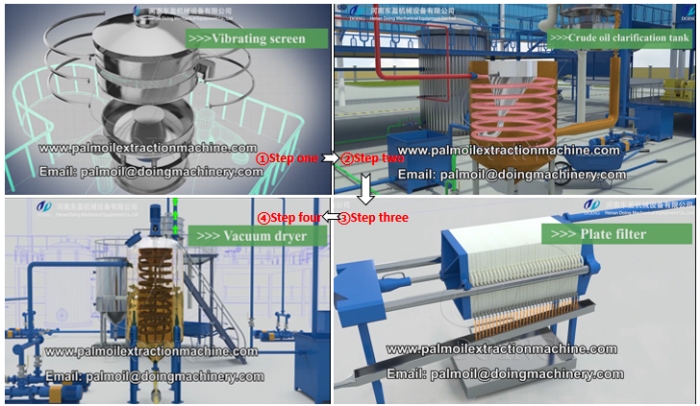 Filteration and clarification machines
If the processing capacity is large enough or needed, the following sections can be added to the processing plant.
7. Palm Kernel Shell Separation System: the fiber separation machine is the machine required for the first step of palm kernel oil processing. Magnetic separators are used to remove metal debris; vibrating screens are used to remove stones and sand.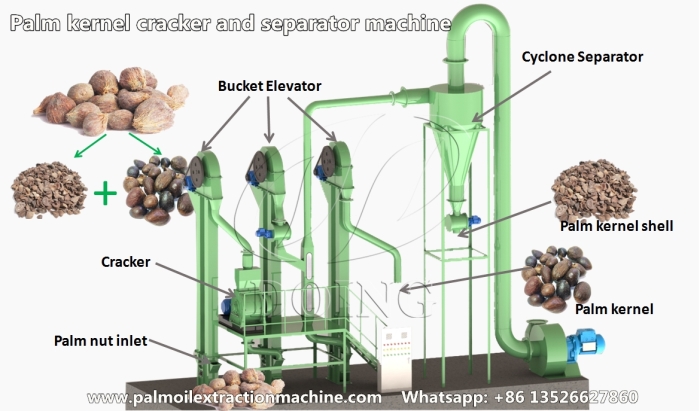 Plam kernel cracker and separator machine
8. Kernel Recovery Section of palm oil processing: the separated husks are sent to the warehouse for temporary storage, and used as fuel for the boiler room when necessary; the dried kernels are sent to the kernel storage for storage, and a palm kernel pressing production line can also be configured if necessary.
Henan Glory Company have experienced engineers who can help customers design production lines, provide installation services and guide the use of machines, truly achieve personalized services, and meet customers' all-round needs for palm oil processing. If you need any palm oil processing machines and palm kernel oil processing machine, please inquire us.
Leave A Message
If you want to know more information about What are the machines used for palm oil processing?. pls kindly leave your phone number, We will back to you ASAP once we got your message.