Palm oil mill process flow diagram introduction
Palm oil mill process flow diagram mainly uses the expression of graphical symbols, which can clearly express the structure of the whole palm oil mill and the operation process of the palm oil mill process. The entire palm oil mill process involves the reception of fresh fruit bunches from the plantations, sterilizing and threshing of the bunches to free the palm fruit, mashing the fruit and pressing out the crude palm oil. The crude oil is further treated to purify and dry it for storage and export.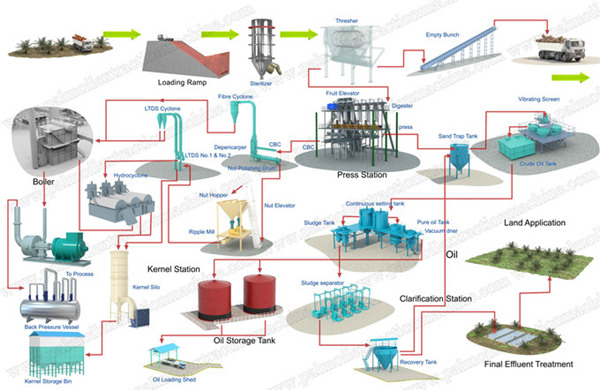 Palm oil mill process flow diagram (click here to view larger)
Palm oil mill process flow diagram main stations:
| | | |
| --- | --- | --- |
| No | Main section | Main machine |
| 1 | Fresh palm fruit bunch reception section | Loading ramp |
| 2 | Sterilization section | Sterilization tank |
| 3 | Threshing section | Threshing Machine Platform |
| 4 | Digesting & Pressingsection | Digester & Screw presser |
| 5 | Oilclarification section | ClarificationTank |
| 6 | Fiber separation section | Polishing drun |
| 7 | Palm kernel recovery section | (1)Palm nut storage tank (2)Polishing drum (3)Nut grading screen (4) Palm nut Ripple mill (5)Separating column system (6)hydro cyclone equipment (7)Palm kernel drying bunker (8)Dry Palm kernel final storage warehouse |
| 8 | | Nutsheller |
| 9 | Engine room | Diesel generator |
| 10 | Boiler house | Boiler |
| 11 | Water treatment | |
| 11 | Effluent Treatment Plant | |
Palm oil mill process flow diagram introduction:
1.Fresh palm fruit bunch reception section: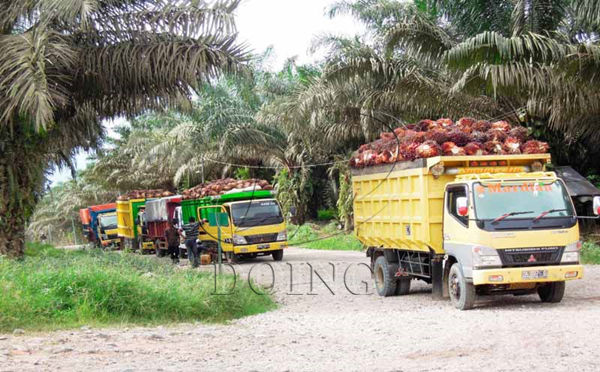 Palm fruit reception station
Fresh palm fruit bunch reception :
FFB means fresh palm fruit bunch which can be harvested all the year round. After cutting from palm trees, fresh palm fruit bunch must be processed within 2days. Or the acid value will be high and affect the final palm oil quality.
2.Sterilizing Station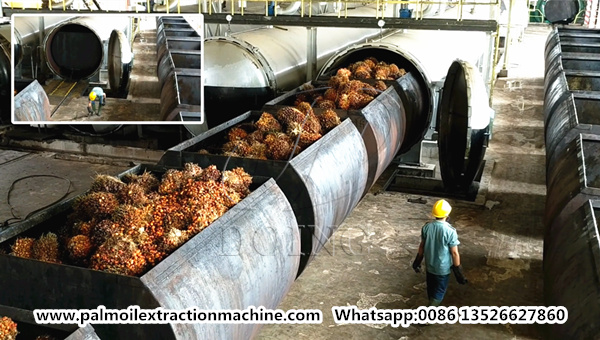 Palm fruit sterilization machine
The FFB are discharged into the loading ramp, then transported to sterilizer for sterilization. It uses high temperature to softening the fruit and kill the bacteria, this will increase the moisture content of fruit and separate the fruits easily, so finally it will easy to get oil and separate palm kernel, also avoid the raising of free fatty acid. From picking to sterilization, the time shall not over 24 hours.
3.Threshing Station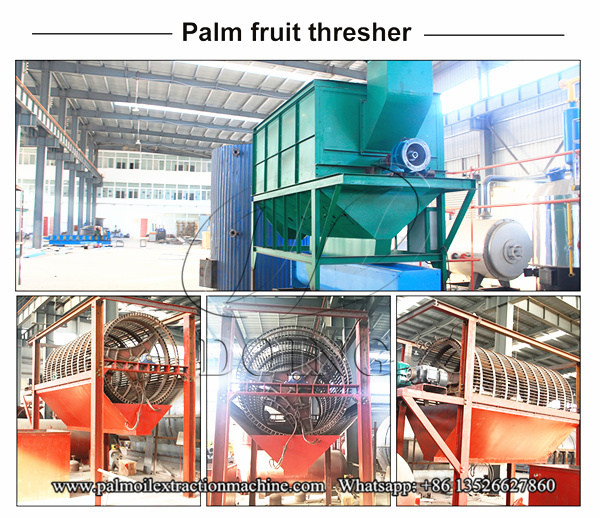 Palm fruit threshing machine
In the sterilizing process, the palm fruits are softening, through the threshing and screening of thresher to separate the palm fruits and empty fruit bunches(EFB).
Empty Bunch Conveyor
The EFB are stored to be use as fuel or fertilizer, also can be used for other functions.
Fruit Elevator will conveying the threshed palm fruit(from Under Thresher Conveyor) to next step of Palm fruit pressing station.
4.Digesting & Pressing Station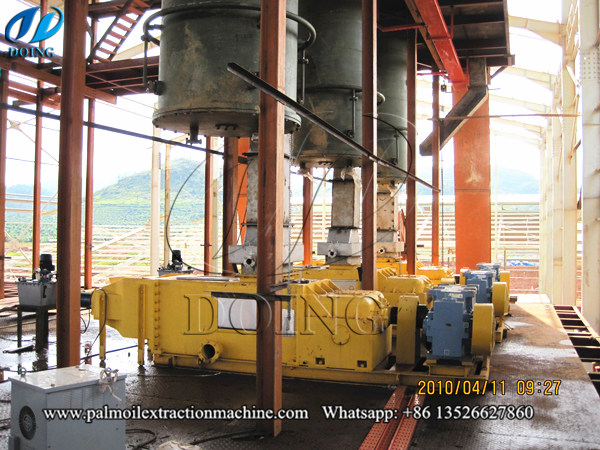 Palm fruit digesting and pressing machine
Transport the palm fruits to the digester to mixed and cooked again to separate the palm pulp and nut, then use double screw hydraulic palm oil presser to get crude palm oil, which improved the production efficiency greatly.
5.Oil clarification station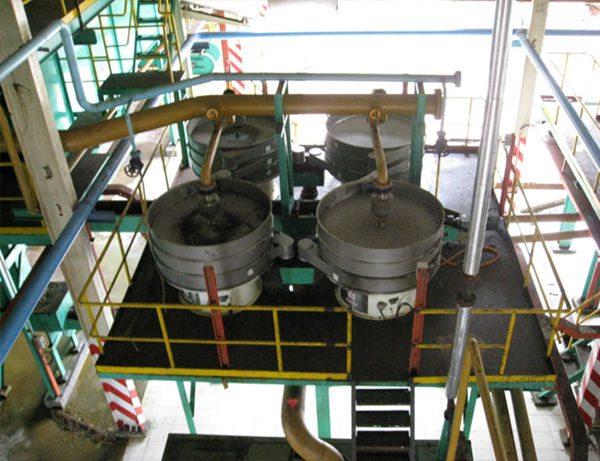 Crude palm oil clarification machine
Machine-pressed crude palm oil first diluted with water washing, through settlement and filtration, the fiber material removed from the oil, and then carry out continuous settlement, the whole divided into two parts: oil and sediment. The oil and the sludge taken out separated (by 90% pure oil) is taken out of the oil containing 45%-55% of the water, sludge and other things.
6.Oil Tank and Oil Loading Shed

Oil tank in palm oil mill
Store the crude palm oil and ready to load the oil to other places.
7.Depericarping Station
The pressed palm fiber cake gets into the cake breaker then get into the winnowing system to separate the fiber and nut.
8.Kernel Recovery System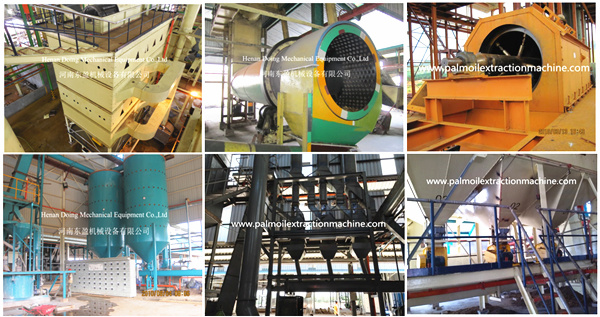 Palm kernel recovery machine
Then nut will be crushed to get shell and kernel. Through winnowing system and washing system to separate the shell and kernel. The shell can be used as fuel for boiler, the kernel will be dried for storage and sell to others or next processed into palm kernel oil by another plant(palm kernel processing plant ).
(1)Palm nut storage tank: used for storage the palm kernel
(2)Polishing drum: Used for polishing the palm nut and remove the residual fibre to get clean palm nut.
(3)Nut grading screen:classify palm nuts into different grades
(4)Ripple mill: Used for cracking the palm nut , cracking the hard shell of the palm nut and get the mixtures of palm kernel and shell.
(5)Separating column system &hydro cyclone equipment:separate the kernel from the shell
(6)Palm kernel drying bunker: drying finally palm kernels:finally the dryed palm kernels can be processed further via palm kernel oil expeller or directly sell to others.
(7)Dry Palm kernel final storage warehouse: Used for storage the dryed palm kernel.
Other Assistant Equipments of Palm Oil Mill
9.Boiler House:
10.Power House
11.Water Supply and Treatment (Including boiler water treatment)
12.Effluent Treatment Plant
The above is the mainly introduction of palm oil mill (suitable for capacity above 15tph). Any question about palm oil mill process flow chart diagram and any capacity palm oil processing machine , please feel free to contact Henan Doing Company. You will get more thank you think.
Leave A Message
If you want to know more information about Palm oil mill process flow diagram introduction. pls kindly leave your phone number, We will back to you ASAP once we got your message.
Leave a message

Tel/Whatsapp:008613526627860