Palm kernel oil refinery plant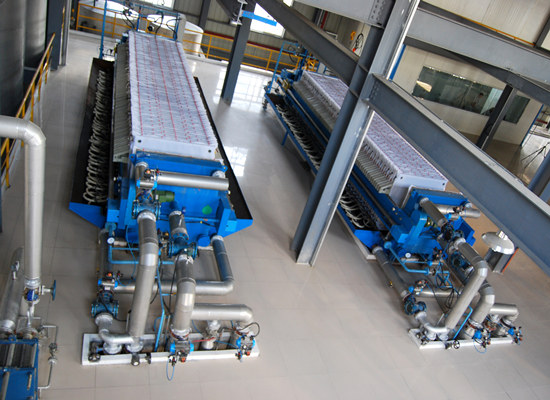 Factory direct sale contact number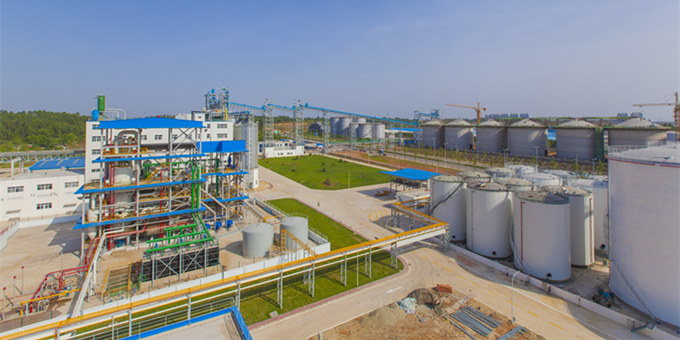 Palm kernel oil refinery plant
Henan Doing Company is the top palm kernel oil refinery plant supplier in China. We manufactures and exports premium quality palm kernel oil machinery for domestic and overseas markets. We offer tailor-made palm kernel oil refinery plant to meet clients' requirements. The daily capacity of palm kernel oil refinery plant we can supply is from 1TPD to 2000TPD. The Our experienced professionals and skilled workers will provide whole worry-free service, from the stage of designing, manufacturing to the stage of erection, on-site commissioning and maintenance. Choose us, you will own a cost-efficiency palm kernel oil mill! We are always at your side!

Why crude palm kernel oil should be refined? Crude palm kernel oil usually contains a great deal of impurities, including free fatty acid, pigments, colors, colloid, wax, moisture and other substance. These non-oil impurities has great influence on palm kernel oil's taste, smell, stability and storage. Therefore, it's necessary to get away of all of these useless impurities to improve its taste and quality.

Palm kernel oil refinery plant process flow chart: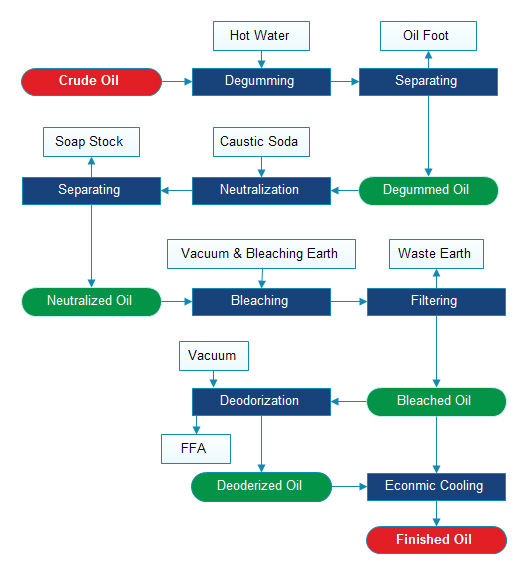 Palm kernel oil refinery process flow chart
In order to get the pure and qualified oil, crude palm kernel oil extracted by Palm Kernel Expeller Machines should be refined through a series of palm kernel oil refinery process. The typical process of palm kernel oil refinery plant includes Degumming, Neutralizing, Decolorizing/Bleaching, Deodorizing, Dewaxing.
Degumming: Remove gums in the crude oil to improve oil edibility, storage and do well to downstream neutralizing section.
Neutralizing: Remove Free-Fatty Acids (FFAs) with caustic soda (NaOH). Soap stock is generate in this palm kernel oil refinery plant process.
Decolorizing /Bleaching: Remove color pigments contained in oil
Deodorizing: Remove disagreeable flavor and odors that are naturally present or created during processing under high temperatur
Dewaxing: At low temperatures these waxes give a hazy appearance to the oil.

Main equyipments of palm kernel oil refinery plant:
The basic machine of palm kernel oil refinery plant includes refining pot, degumming pot, decolorizing pot, deodorizing pot, FFA catcher, water pump, white earth, heat exchanger, oil filter and so on. Surely, the specific machines will have a little different based on the capacity and refinery process.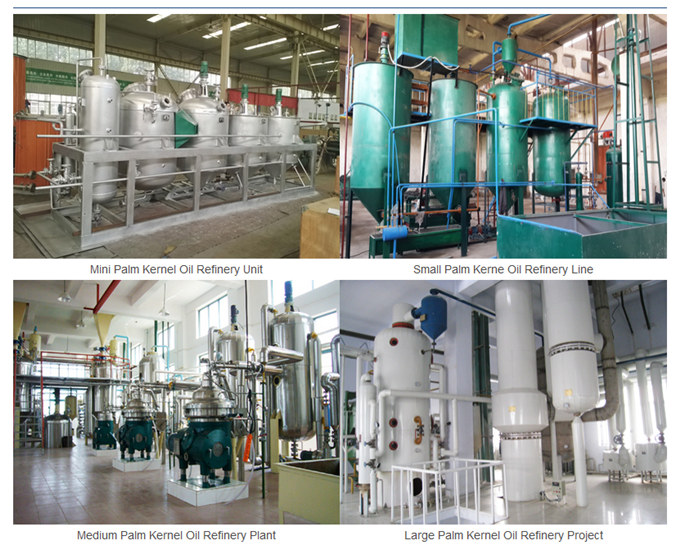 Palm kernel oil refinery plant with different capacity
Advantages of our palm kernel oil refinery plant
It can remove the most of phospholipid from the oil by extending the reaction between phospholipid acid and oil, and adding special additives.
Fully automatic ration system of bleaching earth ensure the quality of oil.
Complete vacuum refining technology requires less investment, but produce high quality oil.
The filtration of decolored oil goes within the stainless steel leaf filter, which minimizes the oil of cake.
Oil filter, equipped with automatic control system, is easy to operate and ensure stable oil filtration.

We provides complete set of machinery for palm kernel oil refinery plant, including mini oil refinery plant,small oil refinery plant, medium oil refinery plant and large turnkey oil refinery project. If you are looking for palm kernel oil refinery plant, please email for models and latest prices!
Leave A Message
If you want to know more information about Palm kernel oil refinery plant. pls kindly leave your phone number, We will back to you ASAP once we got your message.