How to use the palm-pressed fiber produced in the palm oil production process?
Palm-pressed fiber is also known as oil-rich fiber residue or mesocarp fiber. It is a combination of palm mesocarp fiber, kernel husk, broken kernels and chips. It is one of the main fiber by-products obtained after the extraction of palm oil from oil palm fruit by screw pressing. Palm-pressed fibers are commonly used as a fuel source for boiler combustion in oil mills. In addition to this, research studies have shown that palm-pressed fibers can be treated with value-added methods such as mushroom cultivation substrates, soilless media for seedlings, vermicomposting and potential for raising livestock.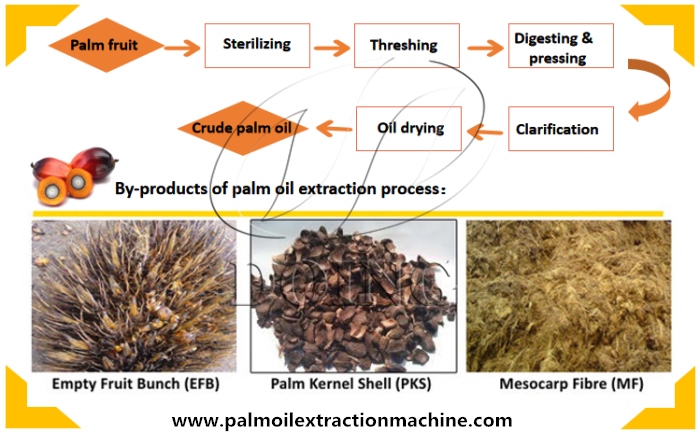 By-products of palm oil production process
The following is the brief introduction of each use of the palm-pressed fiber produced in the palm oil production process:
First, palm-pressed fiber as biomass fuel
Palm mesocarp fibers make up 10-15% of fresh fruit bunches. The fiber is a bulky and highly variable material with some residual oil. As a result, palm fibers are often burned along with palm kernel husks as fuel to provide energy to palm oil mills.
Second, palm-pressed fiber as a substrate for mushroom cultivation
Biodegradation of palm fibers by different types of fungi can be used as a substrate for culturing mushrooms. It has been reported that a certain percentage of the substrate of palm-pressed fiber and palm-pressed fiber ash, when properly concentrated, palm-pressed fiber can function as an excellent substrate for mushroom growth.
Third, palm-pressed fiber as a soilless growing medium
Through research, it is found that the substrate after mushroom cultivation can be used as a soilless growth medium. Studies on the growth of oil palm seedlings and banana seedlings in medium have shown that adding extra nutrient sources, such as compost or chicken manure, to palm-pressed mesocarp fibers can be a better seedling growth medium in terms of nutrient uptake, plant growth, pathogen protection, lighter weight, weed control and more.
Fourth, to extract the palm-pressed fiber oil
The mesocarp fiber as a component of the palm-pressed fiber contains 5 – 6 percent residual oi, which is rich in carotenoids, vitamin E, sterols and coenzyme Q10. In one aspect, it can be extracted as crude palm-pressed fiber oil for use in non-food products. Crude palm-pressed fiber oil, on the other hand, can be refined into higher quality fiber oil by eliminating its undesirable components such as gums, waxes, trace metals and free fatty acids. The lipid values of palm-pressed fiber oil have been reported to be 15% to 20% diglycerides, served as edible oil in some countries, and 47% to 70% triglycerides and a small amount of lauric acid, which use as a preservative that prevents food from spoiling.
Fifth, palm-pressed fiber for feeding livestock
On the one hand, the palm-pressed fiber contains 5 - 6 percent residual oil on a dry basis, which can be extracted as crude palm press fiber oil for animal feed formulations. On the other hand, due to its high fiber and lignin content, palm fiber needs to improve its nutritional value and digestibility to realize its potential as an alternative feed raw material. It has been found that the use of up to 15% and 30% of both fresh, alkali-treated and fermented palm-pressed fiber can be used to determine the feed value of palm-pressed fiber. Therefore, farmers operating near oil palm mills can reduce feeding costs by using these treatments separately to feed rabbits and ruminants.
Sixth, vermicomposting of palm-pressed fiber
Vermicomposting of palm-pressed fibers utilizes earthworms to accelerate decay time while producing high-quality fertilizers with low toxicity, high nitrogen content and high fertilizer value. At the same time, the addition of cow manure and lawn mowing to the palm oil mill wastewater and palm-pressed fiber helps stabilize the compost and accelerate the vermicomposting process. Vermicomposting of palm oil mill waste converts waste into useful plant nutrients and organic fertilizers.
Conclusion
Palm-pressed fiber is a by-product of palm fruit bunch processing. From this point of view, these by-products from the palm production process like palm-pressed fibers are processed into substrates that can also be used for culturing mushrooms, growth media for tissue culture seedlings, and as raw materials for the production of different industrial and biochemical products, etc. These value-added approaches can serve as a route to waste disposal while generating new revenue for operators.
Henan Glory Company has been specialized in designing and manufacturing palm oil extration equipment for 11 years. If you want to engage in palm oil production industry and learn about more information about the by-products uses, please feel free to contact us.
Leave A Message
If you want to know more information about How to use the palm-pressed fiber produced in the palm oil production process?. pls kindly leave your phone number, We will back to you ASAP once we got your message.