Is palm oil production business profitable in Ghana?
Is palm oil business profitable in Ghana? Let's see the palm oil market situation of Ghana firstly.
Ghana imported nearly 250,000 tonnes of palm oil from Southeast Asia in 2014, worth more than US$175 million. Until last year, Ghana's domestic palm oil year output was only 135,000 tons, while the demand exceeded 370,000 tons. Obviously, the palm oil production amount in Ghana can not fulfil the demand of market.
Secondly, because 80% of the local palm oil in Ghana is produced by small workshops, the humidity is high and it contains a lot of free fatty acids, which are easy to deteriorate and unsuitable for storage. These palm oil only can be sold as cooking oil, and cannot be used for industrial production. However, fast-moving consumer goods manufacturers, such as Wilmer, Unilever, Nestle, etc, have large quantities of demand for palm oil. Therefore, it is very necessary to set up automatic palm oil mill plants in Ghana to produce high quality palm oil.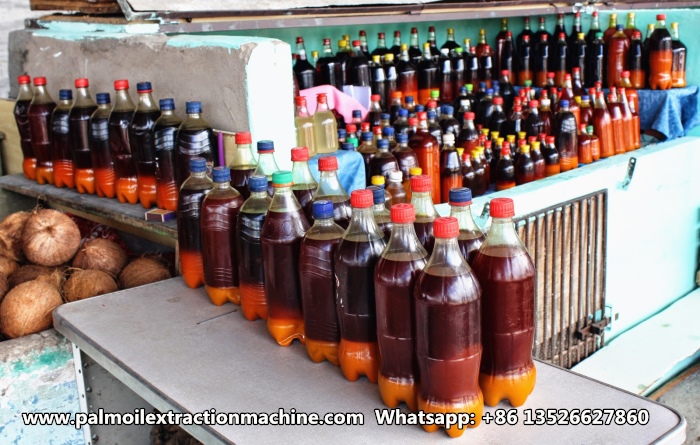 Red palm oil
Besides, Samuel Avala, chairman of the Ghana Palm Oil Development Association, called on the government to strengthen planning and policy support for the development of the palm oil industry, learn from the model of cocoa industry development led by the Cocoa Bureau, and establish a "Palm Development Bureau" similar to the Cocoa Bureau to promote palm oil industry development.
To sum up, if you want to start palm oil production business in Ghana, it is the best time. You don't have to worry about the profit problem, and you can also get the support from Ghana government. How to build an automatic palm oil oil mill plant? You need to know the following factors.
1. Invest cost of automatic palm oil oil mill plant
The cost issue is that investors are most concerned about. And the scale is the one factor which will influence the cost of palm oil oil mill plant.
DOING can design different processing capacities of palm oil mill plant design plan for you. Taking an example, the price of 1-5tph palm pressing production line is around $120000-$350000, including sterilization tank, threshing machine, digesting tank, oil press, vibrating screen, oil clarification tank, plate filter, vacuum drying system, boiler, oil storage tank and other equipment, also includes equipment frame and so on.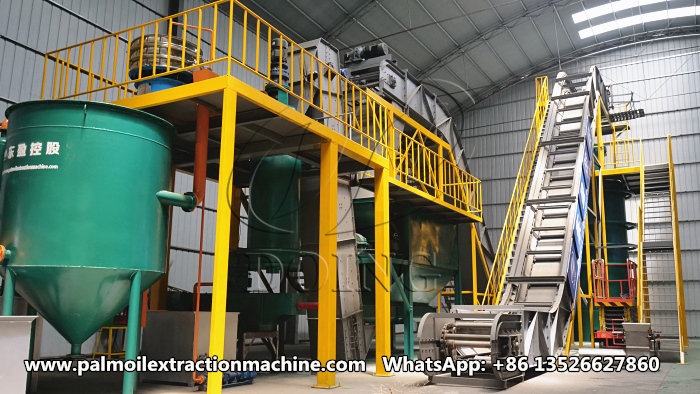 5T/H palm oil pressing production line
The process of this 1-5tph palm pressing production line is improved by DOING engineers team based on the large-scale palm oil production process, more suitable for customers who are building factories for the first time in African.
In addition to equipment, cost inputs such as raw material supply, power erection, factory land, and workers also need to be considered. If you want to know more detailed information, you can contact us. Our sales has rich experience in the setting up process of palm oil mill plant.
2. Project plan of setting up a palm oil mill plant
Under normal circumstances, the project preparation process is raw materials---inspecting the factory site---booking the machine---site pretreatment (factory foundation construction, power laying, water drainage, etc.)---equipment installation and commissioning, worker operation training--- - Topping of the factory workshop---trial operation-official production.

Extract red oil from palm fruit
Under normal circumstances, a 1TPH palm pressing production line requires 200 hectares of orchards to provide raw materials, a factory of about 2000 square meters, a total equipment power of about 60kw, and 4-5 workers to operate.
As a R&D, production and manufacturer of palm oil equipment, we have projects in Ghana, Nigeria, Cote d'Ivoire, Tanzania, Kenya, Sierra Leone and other countries, and the palm oil produced has achieved ultra-high profits for customers. If you also want to enter the palm oil market, welcome to consult us, we will provide the greatest help for your business planning with professional technical support and high-quality equipment.
Leave A Message
If you want to know more information about Is palm oil production business profitable in Ghana?. pls kindly leave your phone number, We will back to you ASAP once we got your message.