Palm oil mill equipment in Nigeria
When asked about Palm Oil Mill equipment in Nigeria, I can't help but feel nostalgic as memories of those old manual palm oil press comes to mind. The vision of two people turning the corkscrew with sheer brute force alone, while palm oil slowly sips into a basin. That was the late 1990's and Early 2000's, fast forward to today, where most people prefer simplicity and easy. You will find most of the palm oil mill equipments are more mechanized requiring less labor.
Old manual palm oil processing process: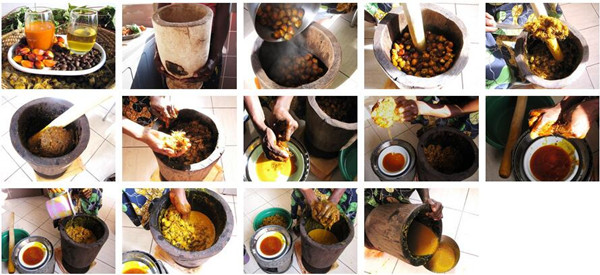 Palm oil processing methods-one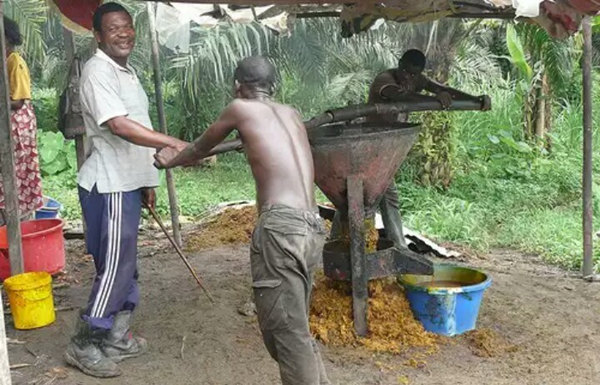 Palm oil processing methods-two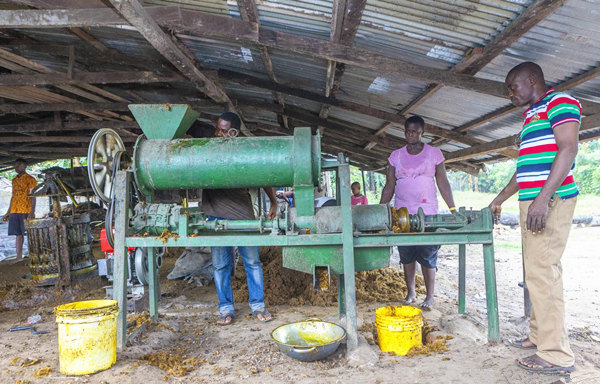 Palm oil processing methods-three
Across the Nigeria, more and more palm oil mills are upgrading from the traditional means of processing palm oil to more modern approach. Now you can see most palm oil mills across Nigeria are upgrading to the more mechanized option of using a digester and an oil press, which is run by a diesel engine. Because of these upgrades, the palm oil milling process that use to be an extended family process involving 8-12 people, has now gone down to 3-6 people. Although its less tedious, it still involves some backbreaking work.

Now that more and more companies are getting into the business of Palm Oil Processing plant. Newer models of palm fruit sterilizing machine , palm fruit threshing machine, palm fruit digesting & pressing machine are coming on board to make the processing a lot more easier. More importantly, less tedious.As you can see, its more efficient and effective to use a digester / palm oil press expeller to set up a palm oil mill.
Modern palm oil processing technology:1-5tph palm oil processing plant
Henan Doing Company is a professional manufacturer of palm oil processing plant, palm oil refining machine, and we have exported palm oil processing plant to many city in Nigeria.These Palm oil processing plant have helped a lot of small scale business startups, in setting up palm oil mills quicker and easier.

Are you looking at starting you own small scale palm oil mill? If yes, please contact us, we will offer palm oil processing plant solution for you.
Leave A Message
If you want to know more information about Palm oil mill equipment in Nigeria. pls kindly leave your phone number, We will back to you ASAP once we got your message.
Leave a message

Tel/Whatsapp:008613526627860