Difference between general oil press and palm press process
Henan Doing Mechanical Equipment Co,. Ltd offers Palm oil processing machine covers a complete processing line from palm fruit processing until getting high quality and high oil yield crude palm oil. Palm oil processing plant covers a complete production line including palm bunch reception, sterilization station, threshing station, palm oil pressing station, palm oil clarification station, crude palm oil storage tank and palm kernel recovery system.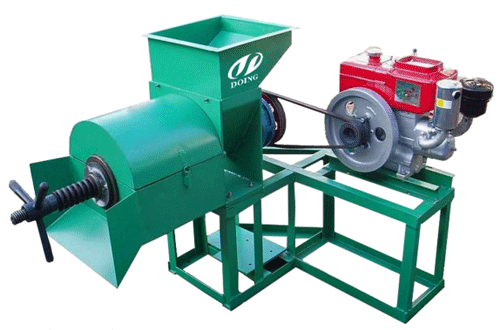 General oil press usualy two ways: hot press and cold press technology:
For example,peanut oil hot-pressed .When the first hot pressing crushed peanuts or flaking, and then placed in the steamer and steam for 1.5-2 hours, the temperature reaches 120 degrees, about 3% moisture to the press,when the press machine temperature reached 85 degrees, start a normal press. If there is no steamer can also be placed in the wok fried peanuts, crushed peanuts first, gradually add about 7-8% of the water, you can pan fry yellow when pressed into.

The difference between general oil press and palm press overall little,press main fermentation process should be carried out to kill the cooking stage, palm oil once after precipitation, and filtered to give crude oil, conventional oil after pressing need for secondary crushing, squeezing fully out of oil.

If you want to know more details of palm oil processing equipment, please leave us a message online, we will promptly solve all your problems, I hope you have time to visit our factory.
---
---
RELATED INFORMATION: