500kg/h palm kernel oil extraction line is ordered by Nigerian customer
On 28th of June, a new palm kernel oil extraction processing line is ordered by Nigerian customer. This one will be our 8th palm kernel oil extraction project in Nigeria country, as well as the 30th palm oil mill project in Africa.

Palm oil mill projects and palm kernel oil mill projects that we have built in Africa
This client is a new customer who was personally interviewed by our project manager during his business trip in Nigeria last month. After understanding his raw material acquisition and financial situation, our project manager and palm oil processing machine engineer specially designed this 500kg/h palm oil extraction machine project for him. This customer was very satisfied to this palm kernel oil machine project proposal. In order to get his equipment into production early, the owner of this 500kg/h palm kernel oil extraction project signed contract directly on the spot and paid in full.(You may interested in : How to start a palm oil processing business in Nigeria?)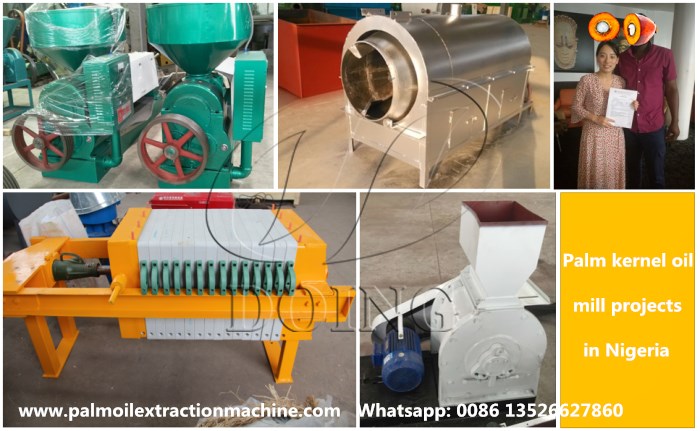 This Nigerian customer ordered palm kernel oil extraction machine includes the above main machines
So far we have signed many palm kernel oil processing machine sale contract, especially in this year, order quantity of palm kernel oil extraction projects rise soar. Do you want to know why so many people choose to start palm kernel oil processing business in Nigeria? Maybe I can tell you the answer.
One reason is Nigerian government ban to import palm oil & palm kernel oil from others countries and encourage to build local palm oil mill factory and palm kernel oil mill factory. For those who have traditional type palm oil processing machine, government suggest them to replace more automatic and high-efficiency machine within these two years.
The another reason is our efforts to build palm oil processing machine warehouse and office in Nigeria local. We Doing Group understand your concern about after-sales service. If it is me, if i choose to buy palm oil processing machine from different countries, I am also worried that the problems in the operation process of the equipment cannot be solved in time. In order to offer you best service, like installation issue, machine visit, the scene test machine, convenient replacement of spare parts, etc. We Doing Mechanical Equipment Co.,ltd build the warehouse in Nigeria.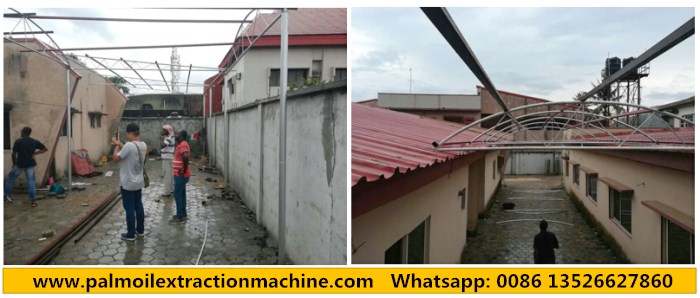 Palm kernel oil processing machine warehouse is under construction in Nigeria
More palm oil mill projects manufacturing information, please stay tuned for the next article. I will update very soon. Of course if you are very very interested in our palm oil or palm kernel oil making machine, leave message and our sales will contact you at once.
Leave A Message
If you want to know more information about 500kg/h palm kernel oil extraction line is ordered by Nigerian customer. pls kindly leave your phone number, We will back to you ASAP once we got your message.
Leave a message

Tel/Whatsapp:008613526627860