20tpd palm oil refinery plant exported to Indonesia
This is a small scale palm oil refinery plant designed and manufactured for one of our client in Indonesia. The capacity of this palm oil refinery plant is 20 tons per day. The client set up this 20TPD physical and chemical oil refinery plant to make palm oil deep processing to get high quality palm oil. This 20 TPD Palm oil refinery plant included:

Heat Conduction Furnace: 1 set Offer enough thermo for the refining sections.
Steam Generator: 1 set Produce steam for the workshop
Refining Pot: 2 sets Remove the gum, phosphoric acid etc,
Decolorizing Pot: 1 set Remove the color from neutralized oil
Deodorizing Pot: 1 set Remove the solvent, smell, water from decolorized oil
Other Auxiliary Equipments: Hot water Tank, Bleaching earth Tank, Air compressor, pumps, filters, Valves, Electricity Control Cabinet, etc.


(This small scale palm oil refinery plant is based on chemical refining technique. The main crude palm oil refinery plant includes degumming pot, refining pot, leaf filter, decoloring pot and more.)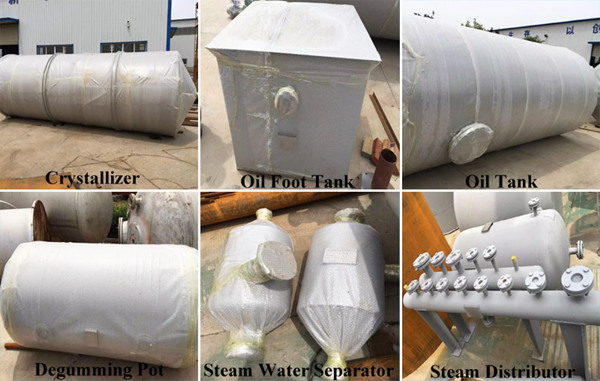 The main equipment of crude palm oil refinery plant includes degumming pot, refining pot, leaf filter, decoloring pot and more
Other machines and spare parts included in this 20 TPD palm oil refinery factory: steam jet pum, leaf oil filters, cooling tower, various valves and more.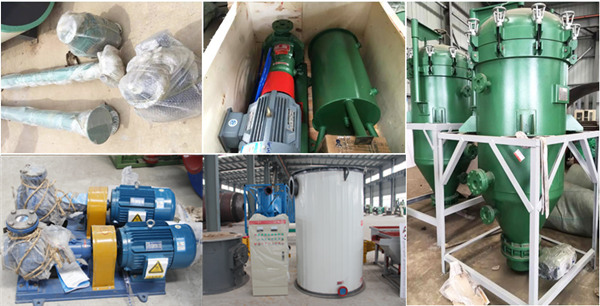 Other machines and spare parts of 20tpd palm oil refinery plant
Main Stages of Palm Oil Refinery Process
Degumming section :
Degumming is the first and basic step in the small scale palm oil refinery plant, degumming process aims to removing the gum impurities in the crude oil to make it suitable for further refinery process, hydration degumming and special acid degumming are the two main methods.

Deacidification section :
The deacidification system uses versatile neutralization technology, which is developed to deal with oilseeds of different species and qualities in the small scale palm oil refinery plant, it can realize both degumming and neutralization processes by adding alkali, water and acid, then with FFA, crude phospholipids and moisture all removed, the oil and by products (soap foot, phospholipids) are separated.

Bleaching section :
The oil bleaching is also named decolorization in small scale palm oil refinery plant. This process's main purpose is to remove the product of oxidation, pigments, phospholipids, soap materials from the oil. In the oil refinery plant, this process can improve the oil color as well as supplies high quality oil for the deodorization process.

Deodorization section :
Deodorization section is very crucial in small scale palm oil refinery plant in first grade oil production as it improves the flavor of the oil; the quality of deodorization equipment has great effect to the oil quality.
These years, we have exported a lot of equipment for its palm oil and palm kernel oil productions and gained rich experiences in equipment installation and onsite commissioning for Nigeria market, Kenya market, Malaysia martket , Indoesia market and so on. The price of our palm oil refinery plant, small or large, is the most favorable in the market and the quality of our machinery is completely guaranteed. If you want to know more details about the turnkey palm oil mill plant projects, turnkey palm kernel oil mill plant projects. Please contact us, we can offer more than you expected!
Leave A Message About 20tpd palm oil refinery plant exported to Indonesia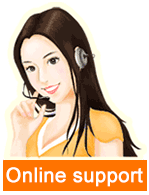 Leave a message

Tel/Whatsapp:008613526627860